The opening ceremony of a 4-kilometer recreation area took place in Alanya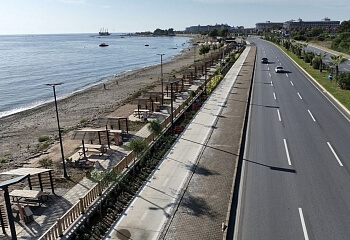 Alanya opens its new 4-kilometer recreation area on the west coast promenade.
In the province of Antalya, in the beautiful city of Alanya, on November 21, at 11:00, a grand opening ceremony was held for the long-awaited recreation area on a 4-kilometer coastline between the districts of Turkler, Payallar and Konakli.
On an area of 58 thousand m2 there is a walking path, recreation and picnic areas where families can spend time, children's playgrounds, fitness areas, a square, an observation deck, cafeterias, volleyball and basketball courts, parking spaces, and a bicycle road.
The mayor of Alanya, Adem Murat Yucel, is delighted with the implementation of the project: "Our mega-project is completed. This will be a great place for recreation and sports, come here to relax," said the mayor, inviting all citizens and guests to visit this place.