July 28 "Kyiv Business Upgrade Forum 2023"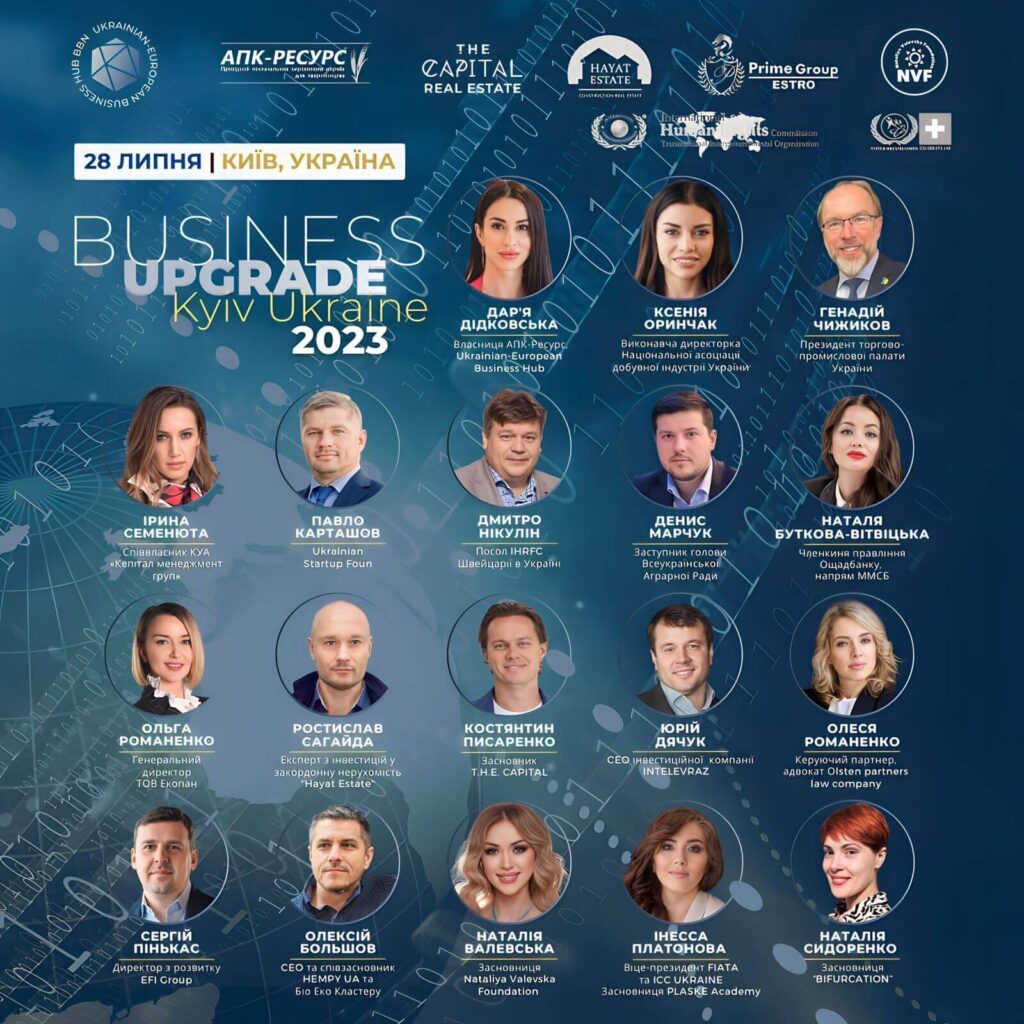 On July 28, 2023, Hayat Estate will take part in the Kiev Business Upgrade Forum 2023.
28.07.2023
13:00
Kyiv, st. Velyka Vasylkivska, 139
The purpose of the forum is to exchange experience, knowledge and ideas of entrepreneurs and professionals from different fields. Where the most pressing issues, problems and trends in business will be discussed.
⠀
The main topic of the forum is "Existence of business during the war: Challenges, solutions, experience and development"
How Ukrainian business recovered and adapted during the year of the war, challenges for business and adaptation to new realities. How war replaces domestic business, state support and prospects for the near future. We approach victory and restoration.
We would like to introduce you to the speakers of the upcoming business event:
Daria Didkovskaya is the owner of APK-Resource Agricultural Company. Founder of the Ukrainian European Business Hub. Entrepreneur with 18 years of experience.
Ksenia Orinchak is the Executive Director of the National Association of Extractive Industries of Ukraine.
Irina Semenyuta is a co-owner of the Capital Management Group asset management company, a financial thinker in business structuring and investment attraction.
Pavel Kartashov is the director of the Ukrainian Startup Fund.
Gennady Chizhikov - President of the Chamber of Commerce and Industry of Ukraine.
Denis Marchuk - Deputy Chairman of the All-Ukrainian Agrarian Council.
Olga Romanenko is the General Director of Ecopan LLC.
Natalya Butkova-Vitvitskaya is a member of the board of Sberbank, responsible for the direction of MSME.
Rostislav Sagaida is an expert on investments in foreign real estate "HAYAT ESTATE", a practicing investor with many years of experience.
Konstantin Pisarenko is the founder of the T.H.E Capital real estate agency.
Yuri Dyachuk - CEO of INTELEVRAZ investment company, partner of INTELEVRAZ property management, investment banker, investor.
Olesya Romanenko is the managing partner of Olsten partners.
Sergey Pinkas is the Development Director of EFI Group.
Alexey Bolshov is CEO and co-founder of Europe's first eco-industrial park HEMPY UA and Bio Eco Cluster.
Natalia Valevskaya is the founder of the Nataliya Valevska foundation.
Inessa Platonova - Vice President of FIATA - an international non-governmental organization in the field of logistics with more than 6000 participants from all over the world, Vice President of ICC UKRAINE, founder of PLASKE Academy.
Natalia Sidorenko is the owner of the "BIFURCATION" project.
Dmitry Nikulin - IHRFC Ambassador of Switzerland in Ukratne.
⠀To join a strong environment and set a course for rapid development, come to the forum. You will gain experience, new tools and growth opportunities.