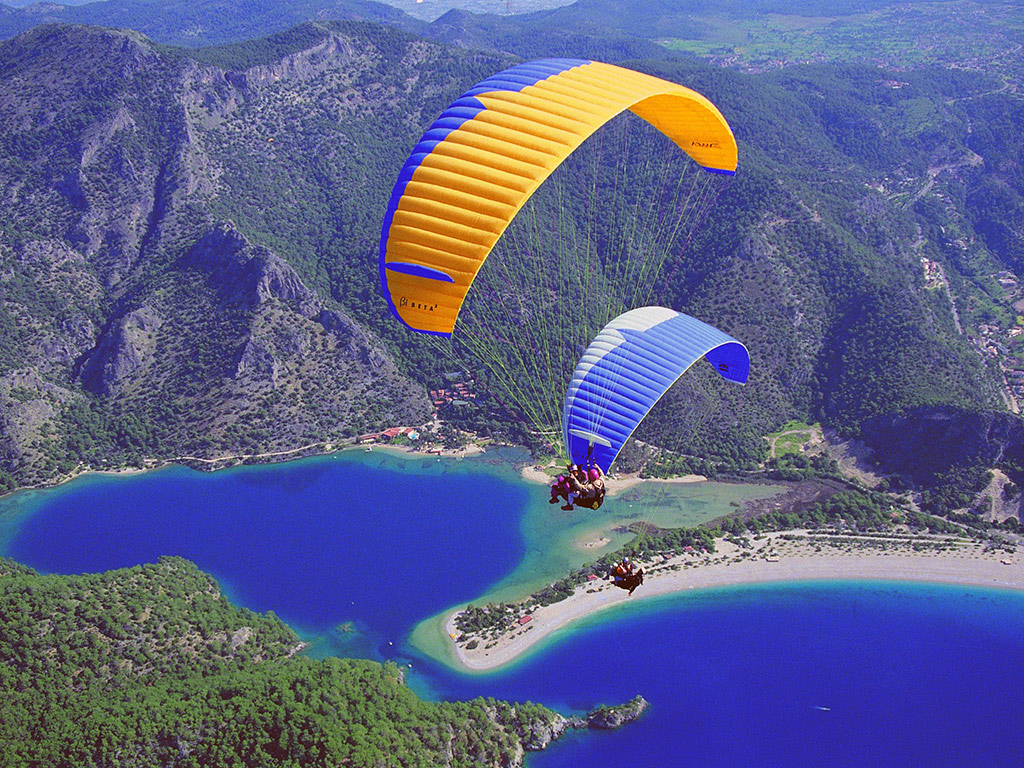 One of Turkey's most beautiful resort cities - Fethiye, has a long history dating back to before our era. According to legend, it was founded in honor of one of the sons of the golden-haired ancient Greek god Apollo. In those days, the city was called Telmess and maintained active economic cooperation with the developed ancient Greek settlements. Millennia have passed, but even today, life is also in full swing here, harmoniously intertwining antiquity and modernity, unique Turkish identity, and contemporary tourism trends. Therefore, we offer you to learn more about this holiday destination and answer questions about where to go and what to see in Fethiye.
How to get to Fethiye?
Before we talk about all the exciting places of this resort, let's figure out where it is located and how to get there. The city is in the southwestern part of the Anatolian Peninsula and is surrounded by green pine forests. For those interested in which sea Fethiye washes, we answer - the Aegean, although, to be fair, this settlement is at the intersection of two oceans, since the conditional border with the Mediterranean Sea is located nearby.
There are no €5 direct flights to the resort; therefore, to get to Fethiye, you need to fly to one of the two major airports in southwestern Turkey. The first is in Dalaman. The price of a round-trip ticket will be approximately 250-€300. You can also take a charter to Antalya and back. Such a flight will cost about €180.
After landing in one of the shown cities, it will be necessary to drive to Fethiye. From Dalaman, this can be done in about an hour by bus, paying €2.5. If by taxi, then 14 times more expensive - €35. Get from Antalya with transfers, which will take about 7-€10 if you go by bus, and from €100 if you take a taxi.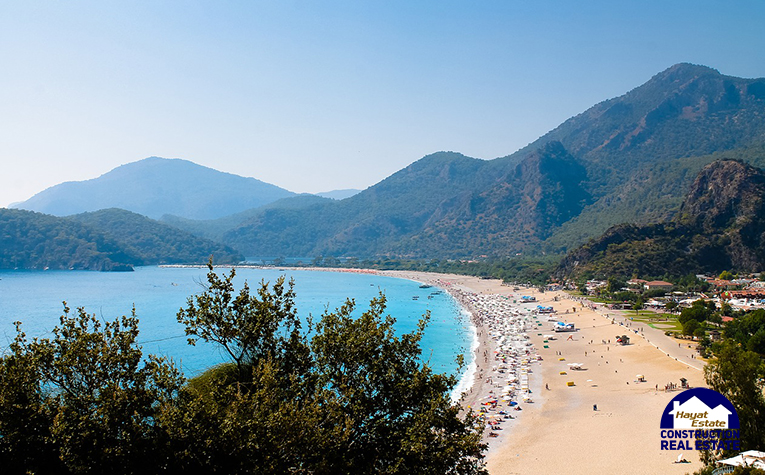 What is the transport in Fethiye?
Since the city is not the smallest, you will not always want to go around it on foot. Fortunately, public transport travels here regularly from morning to evening. A fixed-route taxi around the city will cost 3 Turkish lire (TRY) if you go to the suburbs - from 5 TRY. Taxis in Fethiye are not democratic. One kilometer is valued at 4 TRY.
You can also think about renting scooters. Such service costs about 40-60 TRY/day.
If you intend to make excursions to nearby ancient cities such as Pinaru, Kadiandu, Xanthos, and Tlos, but dislike depending on bus schedules and excursion programs, renting a car in Fethiye is suitable for you. Prices vary, but they start at 150 TRY/day for a sedan on average. 

Where to stay in Fethiye?
Before starting long and informative excursions and a relaxing holiday, you need to decide on the choice of a place where you can stay. If you choose hotels in Fethiye and suburban areas, their average price will be from 100-150 TRY/day for three "stars" and about 250-400 TRY/day - for four or five "stars." To stay close to protected areas, the cost of rooms will approximately double (from 350 TRY/day in three-star hotels and 700-800 TRY/day - in five-star hotels).
For lovers of savings, local hostels are suitable, offering their services from 30 TRY/day. You can also rent an apartment or stay in mini-hotels, which will cost about 60-100 TRY/day. 

Holidays in Fethiye
Having dealt with the accommodation and options for moving around this city, you can safely begin to explore all the interesting local places. Here is a list of things to do in Fethiye:
Visit local beaches;

go diving;

Walkthrough the local markets;

Go on an excursion to the Lycian tombs;

Visit the ghost village of Kayakoy;

Visit the Valley of the Butterflies.
As you can see, the list is quite diverse and will undoubtedly arouse interest among fans of extreme pastimes and family vacation connoisseurs or interested travelers. So, let's get acquainted with the sights of Fethiye in more detail.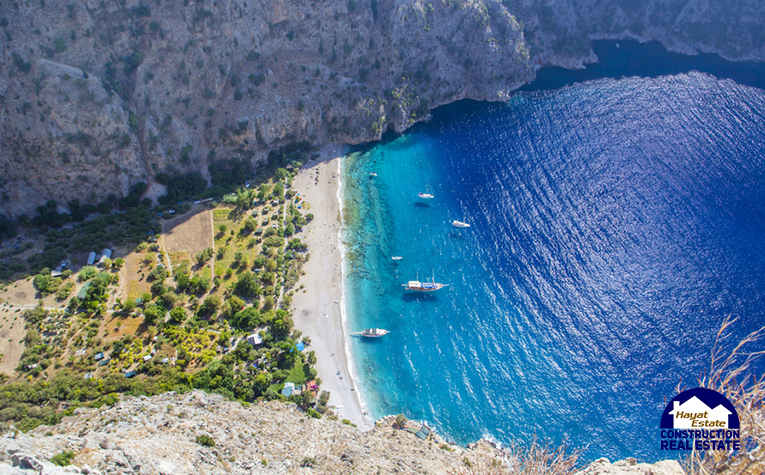 An integral component of any seaside city is its beaches, especially when it comes to the warm Mediterranean climate. The weather in Fethiye cannot but please the tourist with an abundance of sunny days a year, allowing you to massively open the swimming season in early May and continue it until the end of October. Even in winter, it is not so cold here, although rainy. Most importantly, the weather conditions are not excessive because it is always fresh here, thanks to the nearby Aegean Sea, and forests and mountains protect from winds and heat.
Thus, the beaches of Fethiye are always full of vacationers, attracting them with both picturesque landscapes and an abundance of water recreation options. The nearest beach - Calis (Calis), is one of the best ecological dams in Turkey, with a developed infrastructure and service. Admission is free, and renting a sun lounger and umbrella will cost 5-7 TRY. You can also admire the sea surf for free near the Belcekiz recreation area, which lies on the way to the Valley of the Butterflies.
Near Fethiye is Blue Lagoon Beach, in a protected area, which is the reason for the entrance fee of 7 TRY. A little cheaper, you can get to the Kidrak embankment - 6 TRY. Those who are more interested in underwater beauty should try diving, which allows you to fully admire the diversity of coastal fauna, from exotic perches to moray eels and octopuses. In some bays, such as Dalyan, it is even possible to dive with children. The most popular place among divers is Saryyarlar. One dive for beginners costs about 150-220 TRY. If you order a weekly entertainment program, pay about 2000 TRY.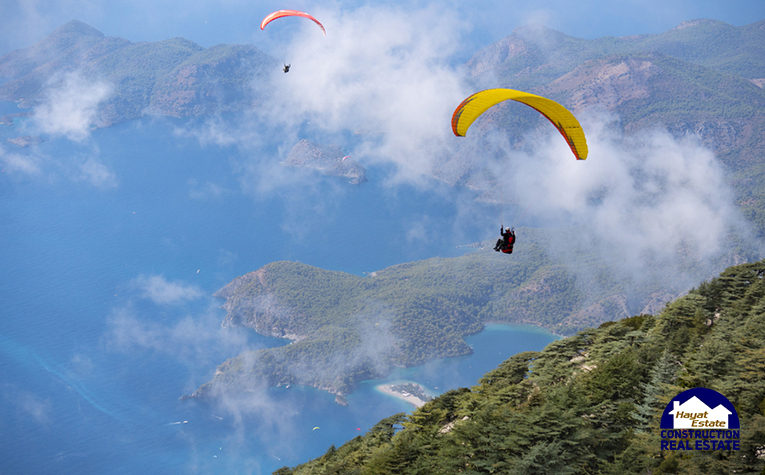 No less exciting adventure is a trip to the Turkish markets. After all, the East is a delicate matter, and eastern merchants are "jewelers" of their business. The main thing is to bargain with them, knocking down the price of goods by 20-30% below the original cost. You can buy anything from spices to handmade jewelry. For example, gold earrings will cost about 150 TRY. Lycian tombs, a monument of ancient architecture erected around the 4th century BC, can be considered Fethiye's visiting card. A ticket inside costs 5 TRY. The most famous among them is the tomb of Amyntas.
Fans of antiquity will also enjoy a trip to the ghost village of Kayakoy, on the territory of which there are about 3,000 abandoned houses. The entrance ticket will cost 5 TRY for excursions to the ancient Lycian cities of Tlos and Pinara.
We also advise every tourist to visit the Butterfly Valley in Fethiye, the most beautiful place in the city's vicinity, completely dotted with myriads of all kinds of butterflies. True, it is only called a valley being a gorge, which can be reached by climbing a relatively wooded and not a small hill.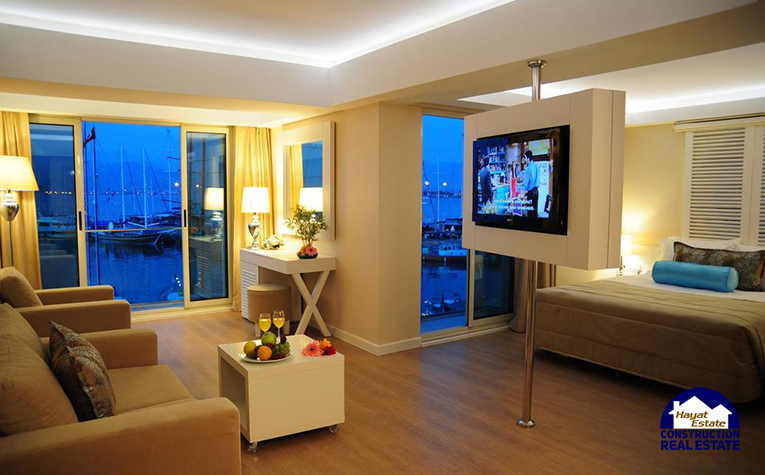 Where to eat in Fethiye?
Pretty exhausted from excursions and active leisure, we advise you to try local delicacies. Given many local cafes and restaurants and the democratic nature of their pricing policy, everyone can eat. So, breakfast will cost an average of 10 TRY in fast food, up to 20 TRY in a more expensive establishment. A beach snack will cost about 10-15 TRY. You can treat yourself to a solid dinner with a glass of wine for 30-40 TRY.
In conclusion, we can say that Fethiye allows people with a variety of preferences and financial capabilities to comfortably spend time, being a good choice for a family vacation, especially if each family member perceives the meaning of this word in their way.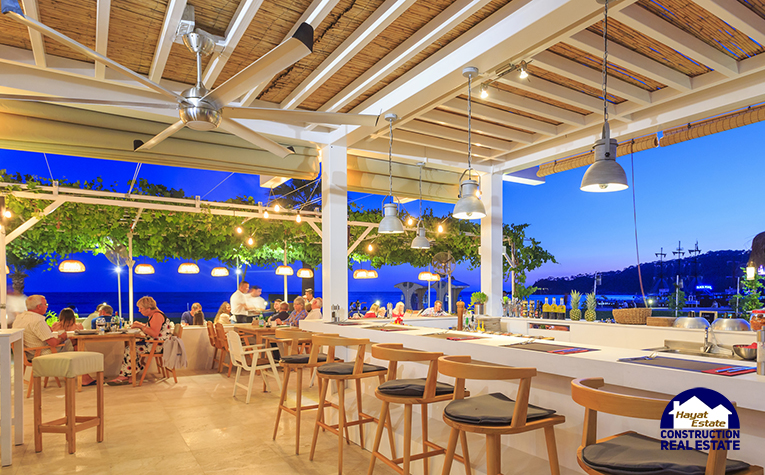 Property in Fethiye
The historic and beautiful city of Fethiye interests vacationers and property investors. Housing prices range from €80,000 for a 2-bedroom resale apartment in Fethiye Calis Beach to €250,000 for a 3-bedroom villa in Ovacik overlooking Oludeniz Beach. Most villas over €150,000 have a private pool and landscaped garden; apartments and small villas in family estates usually have a large shared outdoor pool and shared landscaped garden.
Besides the resort's popularity for permanent residents, rental property in Fethiye is also in great demand. More and more tourists are considering spending holidays away from the hotel. The rent in this area varies from 4% to 8%, depending on whether you are in high-demand areas such as Hisaronu, Ovacik, close to Oludeniz beach, or quiet Uzumlu near Saklikent canyon. The increase in the number of buyers is pushing prices up, ensuring that real estate in Fethiye is a highly profitable investment option.
The average price per square meter for real estate in Fethiye is:
in the center - €680 (640-€745);

in a residential area - €620 (530-€745).
The main foreign buyers of holiday homes in Fethiye are the British. Germans, Dutch, and Russians follow them. Germans buy property in the center of Fethiye, while British ex-pats prefer houses outside the city. If you wish to purchase a permanent home or a holiday home, consider a town nestled between the mountains and the sea. It will give you the added benefit of high rents and capital appreciation.
Real estate in Fethiye is an excellent option for living and a profitable investment project. You may stroll through the peaceful Butterfly Valley or a drive along the lovely Gemiler Beach.
With a low cost of living in Fethiye, not all houses fall into "profitable vacation homes." For example, look at the island of Sauvalier with stunning waterfront villas with a private jetty. Such a beautiful house can be purchased for €1 million. You can find similar objects for several million euros in the south of France or Spain. So, Fethiye is a genuinely gifted land for real estate investment and an attractive lifestyle.